Full-featured Screen Recorder with 4 Recording Modes
iTop Screen Recorder is an intuitive, powerful and easy screen recorder that helps capture all your activities and create videos on your PC. The free screen recorder for PC offers 4 modes to record screen, webcam, audio and game clips easily and quickly.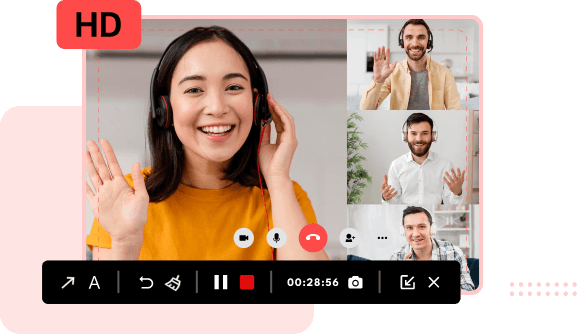 Screen and Video Recording in HD
iTop Screen Recorder allows you to capture every activity on the screen. You can record mouse movements, keyboard and active programs/apps. Annotation tools, cursor magnifier and spotlight help highlight important information in screen recordings making your audiences understand the content better. With the free screen recorder for PC, you can also record webinars/meetings, live streams and create various videos for business, education and more in 1080p, 4K with ease. An enhanced mode is available to flawlessly record YouTube, Netflix, Hulu, Prime Video etc., without black screen.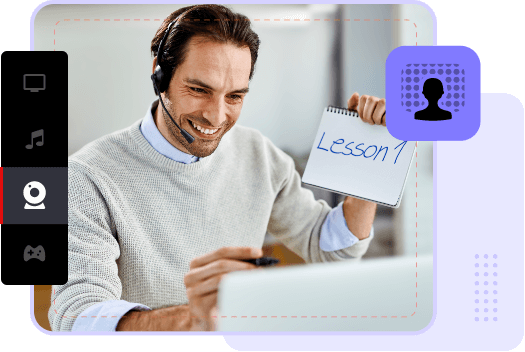 Webcam Recording with Virtual Background
Record webcam videos such as training videos, lectures, presentations easily with iTop Screen Recorder. The webcam recorder mode enables you to create HD webcam video in full screen or picture-in-picture. Meanwhile, you can blur, remove or change video background when recording with a webcam.
Create high quality videos with iTop Screen Recorder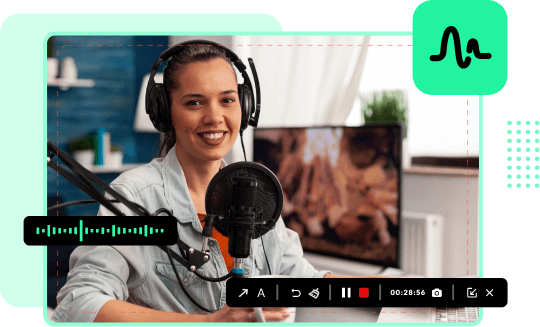 Minions
Robotic
Bass
Female
Male
Lolita
Audio Recording with AI Voice Changer
iTop Screen Recorder is also a free audio recorder for Windows that can capture audio only. You can record your favorite music, live radio, podcasts and audiobooks without downloading. Noise Reduction tool drives you to record high-quality voiceovers, voice messages and speeches with no background noise and microphone echo. The free AI Voice Changer helps you disguise and change your voice with 10+ voice filters while recording.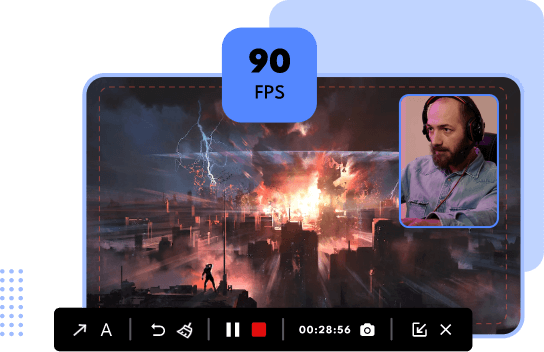 Gameplay Recording Without FPS Drops
iTop Screen Recorder introduces a Game Mode to capture your best plays and highlights. The screen recorder utilizes hardware acceleration of NVIDIA, AMD and Intel to record game clips in 4K UHD, 1080p 90fps FHD with no fps drops and no lags. You can also record gameplay and yourself at the same time through webcam.
Download Free Screen Recorder to Record Everything on PC Screen
Free Download
Explore Powerful Screen Recorder Free Features
Best Experience to Record Screen
iTop Screen Recorder is a HD and fast screen recorder for PC that offers everything you need to capture screen. What can the screen recorder do? Check the feature list.
Record any part of screen

Capture full screen, browser, window or select any area in fixed ratio 16:9 or 4:3. You can also lock and record a specific window only.
Capture Webcam and Mic

Support capturing webcam and microphone. Record screen with voice and yourself at the same time.
Record Screen with No Lagging

Get no-lag screen recording when capturing 1080p, 4K, high FPS (up to 120fps) videos on PC.
Multiple Output Formats

Support more than 12 output video and audio formats, including MP4, AVI, MKV, MOV, MP3, FLAC, etc.
Multi-layer Editing

Easy video editor to create unlimited video and audio tracks. Add, insert and remove any track with ease.
Cut, Split, Merge & Transform

Trim, split and combine video tracks by simply clicking, dragging and dropping. You can also flip/rotate video, change the size and position.
Text, Stickers & Subtitles

Add texts, subtitles, and apply stickers, images to make your videos more informative.
Visual & Audio effects

Add filters, transitions, special effects to layer over the track. Add favorite music as BGM for your video.
Capture Screenshot

Take any area of screen and full screen to a screenshot file. Save the screenshot as JPEG, PNG or BMP.
Compress Video

Inbuilt video compressor to reduce video file size and recordings to 30%, 50% and 70% without quality loss.
Teleprompter

new

Teleprompter will largely improve your video speech by displaying and scrolling the lines you prepared.
Hardware Acceleration

Utilize GPU acceleration to greatly speed up video processing. Plus low-CPU usage, you can enjoy no-lag screen recording and editing with our free screen recorder.
Unlock the Power of iTop Screen Recorder to Make Your Personal Video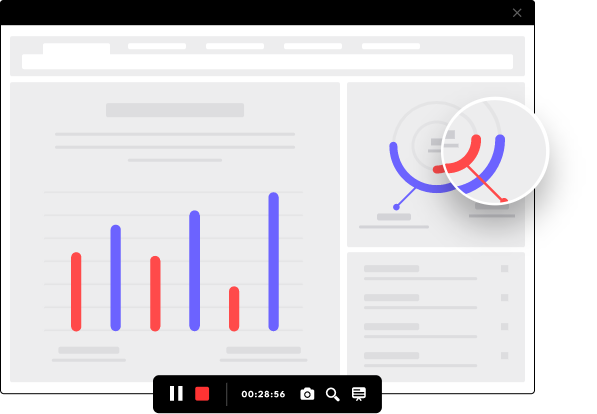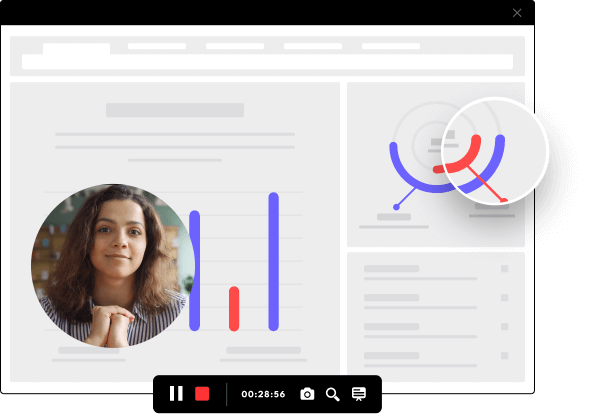 Create engaging tutorial video
Your tutorial video will be more professional, intuitive and easy to understand with iTop Screen Recorder. Annotation tools, such as cursor magnifier, keystroke visualizer, spotlight, and drawing tools make viewers grab key points in the training or explainer videos much easier.
Free Download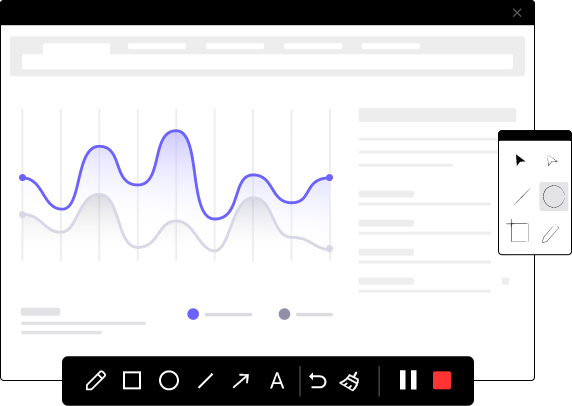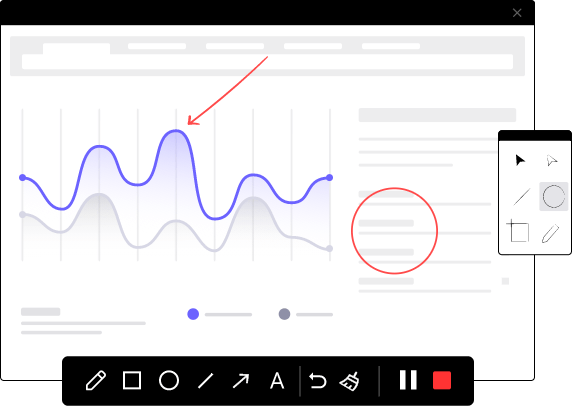 Record a step by step guide video faster than ever
Record, draw, annotate and edit a step by step video in a few clicks on your desktop. Share training and knowledge videos you create instantly with your colleagues and friends.
Free Download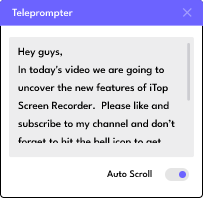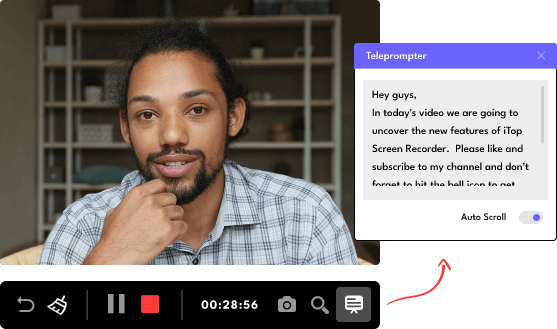 Record a YouTube video in the easiest way
Write and paste your script into the built-in teleprompter and start recording! With iTop Screen Recorder, you have all the tools to record a blog video that makes you look super fluent and professional.
Free Download
How to Record Your Screen with iTop Screen Recorder
Easily record every moment with iTop Screen Recorder immediately! Only 3 steps are enough for recording.
1. Set up Preference

Record full screen or any selected area and adjust other settings as you want.
2. Record the Screen

Record what is happening on your screen without lagging on the frame.
3. Save and Edit

Output the video to any popular format and simply edit your video.
What Others Say
Users are satisfied using our free screen recorder, and want to share their experience to you.
Hi, there! Your fantastic free screen recorder surprises me. I can record all these precious and wonderful moments with iTop Screen Recorder, especially for some live videos. The videos I record with iTop Screen Recorder are extremely high-quality. I can edit, save and share them with my friends. I was not sure of its services but the results I have got are far more amazing. It's brilliant!

Robbins Hilton
Well, so far so great. iTop Screen Recorder has really been an all-in-one tool that is easy to use. It solves my problem of how to record screen on Windows. With iTop Screen Recorder, I can take screenshots while HD recording and edit diverse captions for the video after recording. Then I send it to my Instagram and catch massive attention. This powerful screen recorder has helped drive my business forward. BTW, it's totally free.

Elsie Weston
As a secretary, I need to use screen recording software a lot. It is hard to find an ideal free screen recorder for me, but iTop Screen Recorder happens to be such a perfect tool for video-teleconference records and helps me a lot! I could record the HD screen, use the built-in editor to edit and convert videos into different formats. I highly recommend iTop Screen Recorder, and it deserves to be owned!

Marielle Irvine
I came across this free screen recorder and became a fan of it for its simple editing functions. Because I like to record the operation process to help people solve computer problems, and this recording software allows me to record with audio so that I can directly upload the edited video to YouTube after recording. It combines recording and editing, which is very convenient for bloggers who want to share tutorials video just like me!

Enrico Valencia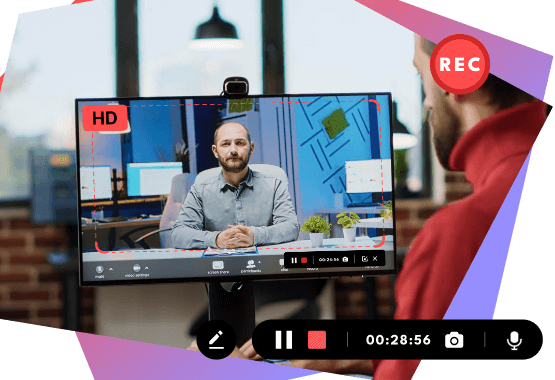 #1 Free Recorder to Capture Screen
One Stop Screen Recording Solution
Try iTop Screen Recorder to Start Recording for Free
Screen Recorder: Guides & Tricks
Screen Recorder: Frequently Asked Questions
Is iTop Screen Recorder Free?

iTop Screen Recorder is free to download and use. It offers free features enabling you to record screen video with audio and webcam simultaneously. You can record webinars/meetings, video calls, online videos, and instructional videos efficiently.

It also has a Pro version with advanced features. Go to the Store and check what's more you can enjoy with Pro.

Is iTop Screen Recorder Safe to Use?

iTop Screen Recorder is a 100% trusted Windows screen recorder. As taking customer data and information security seriously, we have implemented reasonable technical and organizational measures to ensure no malware or hacking issues. So, you can use iTop Screen Recorder with no worry about safety.

What Can iTop Screen Recorder Do?

iTop Screen Recorder is an easy-to-use free screen recorder for Windows PC. You can record computer screen with audio and yourself in a few clicks. It also offers an array of editing tools helping you quickly edit the recording for quick sharing. And multiple output format options can eliminate incompatibility issues.

Can I Record My Webcam and Screen at the Same Time?

Recording screen and webcam simultaneously are primarily for instructional purposes, tutorials, and presentations. iTop Screen Recorder allows you to capture webcam and screen at the same time hassle-free. You can easily make a recording with webcam overlay with this screen recorder.

Can iTop Screen Recorder Record for Gaming?

Absolutely! It employs the Game Mode to help you quickly access playing games and capture gameplay on PC. Thanks to hardware acceleration and low-CPU usage, it can record game clips with no lag and no FPS drop.

Can iTop Screen Recorder Edit Videos?

iTop Screen Recorder builds in Quick Editor and Advanced Editor to help you edit recording and videos for free. Quick Editor is used to make basic and easy video editing, like cutting/trimming while Advanced Editor provides powerful audio and video effects. Both video editors are free to use.

Why Is There No Sound in My Recording?

Please check the audio input in the screen recorder. To record system sound only, please ensure that there is no headset connection to record system sound only. To record external audio, please ensure that the microphone device has been connected and turn on microphone option during recording.

Is It Legal to Screen Record Streaming Services?

We do not advocate recording any copyrighted content from all platforms using our screen recorder for commercial and illegal use unless you obtain the authorization first.