Feature
Features of iTop Screenshot
- Best Screenshot Tool on PC
Selected/ Full Screen Screenshot Capture

Freely select the screenshot capture area: Big or small, full screen or just a tiny icon on a picture is all under your control. Size the whole or capture the detail, the right of choice 100% belongs to you.
Scrolling Screenshot Capture

iTop Screenshot cares about not just what you see but what you really want. Contents beyond the viewing area dimensions are also available to capture by scrolling screenshots and making them a whole.
Save Screenshots to Clipboard/Disk

An awesome screenshot capture doesn't mean our services get to the end. It is just the start, on the contrary. iTop Screenshot supports saving screenshots to both clipboard or disk for your next move. Using the most user-friendly screenshot software to save every valuable second.
Edit Screenshot Online

A perfect screenshot helps you to convey information correctly & smoothly. With iTop Screenshot, you can edit screenshots like editing frames, circles, lines, or add text on the screenshot. Convey your information without efforts.
Share Screenshots to Other Platforms

Do you get tired of capturing screenshots, copy and paste carefully to make an Instagram screenshot? So do us. Using iTop Screenshot now and enjoy a one-click service to share your work to other platforms instantly. Say goodbye to the old way.
Pin Screenshot to Desktop

A brand new function created by iTop Screenshot: pinning users screenshots so that you can continue to work & study with additional information in the meantime. To make your life more efficient, just download iTop Screenshot and more innovations wait for you to experience.
Free Screenshot Software

iTop Screenshot charges 0 money but providing 100% quality. The best service costs you nothing but one click to download!
Exclusive for Windows

Exclusively available for windows - the most used desktop system in the world. Perfect compatibility gives you a smooth user experience.
Easy to Use

Well-designed UI interactive logic greatly simplifies the interactive logic, making the user's each step clear and straightforward. Become iTop Screenshot master within one minute!
How to Capture Your Screenshots with iTop Screenshot
1.Set Up Preference

Customize the setting and click the Capture button to get it started.
3 Steps

2.Capture a Screenshot

Select the area to take a screenshot by scrolling the mouse axis or clicking directly.
3.Save and Exit

Save the screenshot on your PC to finish the screenshot capture.
Free Download
See What Customers Say

Kameron Arn
Great! It's exactly what I am looking for. I can capture impressing moments or important information with iTop Screenshot capture, use its edit screenshot online function to label something that should be noticed, then share these with my friends. It's the best screenshot tool I have ever used.

Suellen Talia
Love this so far! Got iTop Screenshot to capture what I want. It is doing something for me that I really need. I love its simplicity of how easy it is to use. I have not a single complaint about this free screenshot capture.

Sophy Lina
Awesome screenshot! As a teacher, I didn't know how to show new findings to my students conveniently, but with iTop Screenshot, I can screenshot some of these, then project them on the screen. The functions of the iTop Screenshot are more than just this, I highly recommend iTop Screenshot!

Cuthbert Cody
I really really like iTop Screenshot. I was looking for a screenshot for my work and iTop Screenshot did everything and more. Also, I can pin it to the desktop, compare and choose the one I want. This screenshot is so amazing, I am suggesting this tool for everyone!

Video
Being attracted by scenes in the videos, do you want to collect and remember these forever? Use iTop Screenshot to capture touching and impressing moments. Full screenshot capture promises you won't miss any part of it.

Work
People pursue a way to explain things well and quickly while working. iTop Screenshot gives the chances. With iTop Screenshot, giving a clear explanation to your workmates will be an easier thing. Just capture and edit with iTop Screenshot, label the points that needed to notice. Quick, clear, and efficient.

Education
Having class online is one popular way of learning, still struggling with taking notes without enough time?Use iTop Screenshot to capture the key knowledge, you won't miss anything that the teacher emphasized. With iTop Screenshot, learning more knowledge to improve yourself.

Games
Experiencing in the game world, you enjoy ups and downs, crazy fights, and finally winner winner chicken dinner! Do you want to share these with peers? Use iTop Screenshot to capture the wonderful moments of your game life, share these with peers and discuss the highlight of the game together.

Personal
While capturing many screenshots in videos, work, education, and games, do you want to capture all the pages at once? With the scrolling screenshot capture function of iTop Screenshot, capturing the long page once is easy. You can share long screenshots directly instead of many screenshots.
Free Screenshot to Capture Screen
Get Free Screenshot to Capture All the Things on Screen
Free Download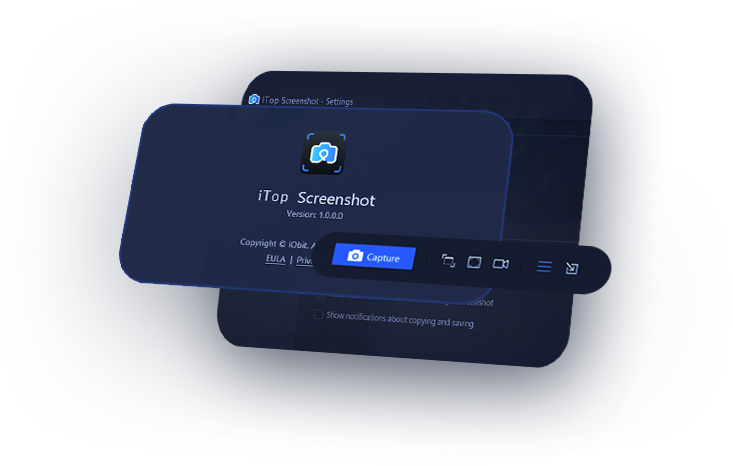 FAQ
Is iTop Screenshot Free?

iTop Screenshot is a totally free screenshot capture, you can use all functions of this screenshot capture tool without limits, like editing screenshot, Instagram screenshot, video screenshot, and more.

Is iTop Screenshot Easy to Use?

Of course, iTop Screenshot considers user experience, and you just use the mouse to select the suitable screenshot size and then click 'SAVE' to finish the screenshot capture on PC. Quick, easy, and convenient for every common user.

Can I Edit the Screenshot?

Yes, you can edit screenshots with iTop Screenshot, like editing frames, circles, lines, or add text on the screenshot.

Does iTop Screenshot Have Watermarks?

Even though iTop Screenshot is a free desktop screenshot, it doesn't place any watermarks.

Is iTop Screenshot Safe?

iTop Screenshot is one screenshot on PC powered by iTop VPN. Protecting customer information privacy and data is our priority. We have a thoughtful system and advanced technology, ensuring no malware or virus.

What Screenshot Formats Are Supported by iTop Screenshot?

iTop Screenshot supports multiple formats, including JPG, PNG, BMP, and so on.

Can I Capture a Long Screenshot with iTop Screenshot?

Of course, scrolling screenshot capture is one special feature of iTop Screenshot. You can capture long screenshots easily by scrolling the screen.

What Are Its Features?

iTop Screenshot is an all-in-one screenshot capture. You can capture the full screen or selected screenshot easily and quickly. No watermarks, no malware, and virus. Besides, this awesome screenshot provides a screenshot editing function and much more different screenshot formats.